Eric Sheppard captures second place at Tour de Korea for OCBC Singapore Pro Cycling Team's sixth podium finish this season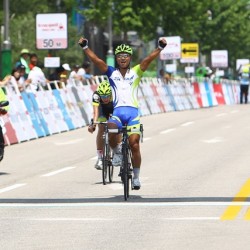 15 June 2013 – FOR a week, the OCBC Singapore Pro Cycling Team flirted with a podium spot at the Tour de Korea.
On the Tour's next-to-last day, Eric Sheppard finally delivered that prestigious and coveted honour, capturing second place in Saturday's Stage 7 for the team's sixth podium finish this year on the Union Cycliste Internationale (UCI) Asia Tour.
Excruciatingly, the 22-year-old Australian ended up less than a bicycle length short of being able to raise his arms in triumph as he crossed the finish line. Sheppard and one other rider, Seoul Cycling Team's Cho Ho Sung, powered away from the lead pack about 3 kilometres from the finish, and Cho narrowly pipped Sheppard on the final stretch to earn the stage win. The two riders were credited with the same time of 3:32:43 in the 145.1-kilometre stage from Yangyang to Hongcheon.
"We are ecstatic at Eric's tremendous performance," said Justin Cheong, team manager of the OCBC Singapore Pro Cycling Team. "It's a pity we didn't win the stage because we did everything right today and came so close."
Sheppard's OCBC teammate Thomas Rabou also turned in a solid performance in Stage 7, rolling in with the 41-strong lead pack in a time of 3:32:57, 14 seconds behind Sheppard. Rabou, who finished 33rd, joined an early breakaway, which resulted in him capturing second place in the day's only intermediate sprint and sixth place in the first King of the Mountains (KOM) climb of Stage 7.
Rabou remained in fifth place in the General Classification (GC) standings, 1:28 behind yellow jersey leader Michael Cuming of Rapha Condor JLT. Sheppard remained in 11th in the GC and third in the Best Young Rider competition, 2:57 behind white jersey leader Cheung Kinglok of Team Hong Kong China.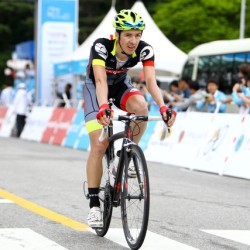 The OCBC Singapore Pro Cycling Team jumped up one spot to eighth place out of the 20 squads in the Team General Classification standings.
The duo will get one last opportunity to improve on their GC rankings when they take to the roads on Sunday for the unusually short 90.8-kilometre Stage 8 from Hongcheon to Hanam.
"We have been in good position throughout this Tour with both Thomas and Eric high up in the General Classification standings," Cheong said. "But we are never satisfied. We want to be on the top spot of the podium and take home the yellow jersey every race we go to."
Sheppard's latest display of brilliance came 10 days after OCBC teammate Loh Sea Keong emerged victorious in Stage 4 of the Tour de Singkarak in West Sumatra, Indonesia.
The following are the OCBC Singapore Pro Cycling Team's other podium finishes this year:
– The Princess Maha Chakri Sirindhorn's Cup Tour of Thailand: Loh Sea Keong, winner of Stage 2
– Le Tour de Filipinas: Thomas Rabou, third in Stage 4
– Melaka Governor's Cup: Loh Sea Keong, 2nd, and Thomas Rabou, 3rd
The Tour de Korea has become yet another highlight in a season full of highlights for Singapore's only professional cycling team. Including Sheppard's second-place result on Saturday, the OCBC Singapore Pro Cycling Team has logged three top-10 finishes in its maiden appearance at the Tour de Korea. Rabou narrowly missed out on a podium spot when he took fifth place in Stage 6 on Friday, while Sheppard crossed the line in ninth in Stage 2. Rabou also almost cracked the top 10 when he finished 11th in Stage 1.
The other OCBC riders competing in the Tour de Korea are Jason Christie, Luke Parker and Low Ji Wen, who rank 51st, 72nd and 81st, respectively, in the GC. All three rolled in with the peloton in Stage 7 and were credited with the time of 3:52:22. Parker took 45th, Christie 57th and Low 71st in the stage.
Sheppard and Parker are stagiaires, that is, amateurs riding temporarily for a professional team as a tryout. They are riding in the OCBC jersey under an exchange programme with the search2retain powered by health.com.au team from Australia.
About OCBC Singapore Pro Cycling Team
The OCBC Singapore Pro Cycling Team was first founded in 2009 as an amateur club team with the mission to develop and promote Singapore cycling. The team has today turned into a full-fledged professional cycling team and established itself as the premier road developmental team for cycling talent in Singapore. Being the first and only professional cycling outfit out of Singapore, the team has been licensed by the Union Cycliste Internationale ("UCI") as a UCI Continental Cycling Team since 2012. Riders from the team have been crowned champions or stage winners in races such as the Tour of California KOM, Tour of Siam, Tour de Kumamo, Tour of Filipinas and Tour of Thailand.