Loh Sea Keong retains yellow jersey, continues to lead General Classification at Jelajah Malaysia
28 June 2013 – LOH Sea Keong ended Friday's Stage 3 of Jelajah Malaysia the same way he started it: Wearing the prestigious yellow jersey.
For the first time in its young history, the OCBC Singapore Pro Cycling Team faced the task of defending the overall General Classification (GC) leader's yellow jersey, and it rose to the challenge. Loh finished safely within the peloton in 97th place and was credited with the same time of 2:08:11 as stage winner Mohd Harrif Saleh of Terengganu Cycling Team in the 94.7-kilometre Stage 3.
The result enabled Loh, a 26-year-old Malaysian, to maintain his 14-second lead over Polygon Sweet Nice Team's Sergey Kuzmin in the GC standings.
Keep this up for two more stages, and Loh can help the OCBC Singapore Pro Cycling Team win its first-ever yellow jersey on the Union Cycliste Internationale (UCI) Asia Tour. Its previous best finish in the GC was Loh's second place at Le Tour de Filipinas last year. Jelajah Malaysia's final two stages are relatively long, flat and hot, which tends to result in bunch sprints at the end of each stage. This would favour Loh as it would make it harder for contenders to pull away from the bunch and slice into Loh's lead in the GC.
"Sea Keong did what he needed to do today," said Justin Cheong, team manager of the OCBC Singapore Pro Cycling Team. "This is new for us. We have not held the yellow jersey before. But Sea Keong has been in tremendous form and is riding with great determination. We are hopeful we can pull it off."
To make things even sweeter for the OCBC Singapore Pro Cycling Team, Malaysian Ahmad Haidar bin Anuawar and Singaporean Low Ji Wen recorded top-10 finishes in Stage 3, coming in sixth and ninth, respectively. Both were credited with the same time of 2:08:11 as the rest of the field. Rounding up the OCBC lineup were Jason Christie in 35th, Goh Choon Huat in 64th and Ho Jun Rong in 81st.
Low's ninth-place finish is the best stage result and the first top-10 finish by a Singaporean this season on the UCI Asia Tour. Haidar's sixth-place finish is also his season best.
"Ji Wen and Haidar are very strong sprinters," Cheong said, "and the short and flat stage was right up their alley."
The OCBC Singapore Pro Cycling Team remains first in the Team General Classification standings on the strength of three top-20 riders. Behind Loh are Christie in 10th place and Low in 20th.
Loh finished his banner day on Thursday holding four jerseys: yellow, green, blue and white, for leading the GC, Sprints Competition, Best Asian Rider Competition and Best Malaysian Rider Competition, respectively. Loh fell out of the lead in the Sprints Competition after Stage 3 but managed to defend the blue and white jerseys, along with the yellow.
After a relatively easy Stage 3, Jelajah Malaysia resumes on Saturday with its longest stage. The 206.3-kilometre Stage 4 begins at Angsana JB Mall in Johor Bahru and travels north to Malacca.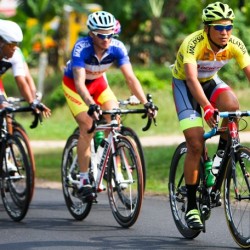 About OCBC Singapore Pro Cycling Team
The OCBC Singapore Pro Cycling Team was first founded in 2009 as an amateur club team with the mission to develop and promote Singapore cycling. The team has today turned into a full-fledged professional cycling team and established itself as the premier road developmental team for cycling talent in Singapore. Being the first and only professional cycling outfit out of Singapore, the team has been licensed by the Union Cycliste Internationale ("UCI") as a UCI Continental Cycling Team since 2012. Riders from the team have been crowned champions or stage winners in races such as the Tour of California KOM, Tour of Siam, Tour de Kumamo, Tour of Filipinas and Tour of Thailand.