Loh Sea Keong wins yellow jersey at Jelajah Malaysia, notches OCBC Singapore Pro Cycling Team's first UCI Tour win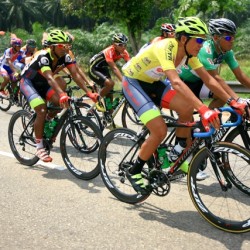 30 June 2013 – IN a season full of firsts for the OCBC Singapore Pro Cycling Team, Loh Sea Keong has delivered the most special one yet.
The 26-year-old Malaysian clinched the yellow jersey at Jelajah Malaysia on Sunday, delivering the first overall win on the Union Cycliste Internationale (UCI) Asia Tour for both the OCBC Singapore Pro Cycling Team and for himself.
To top things off, Loh also clinched the blue and white jerseys awarded to the Best Asian Rider and Best Malaysian Rider, respectively.
"I still can't quite believe it," Loh said. "It has been like a dream training with this team the past two years. I really couldn't have done this without my teammates."
Entering Sunday's 169.8-kilometre Stage 5 from Malacca to Putrajaya, Loh held a slender 14-second lead over Sergey Kuzmin of Polygon Sweet Nice Team in the General Classification. As they did in Saturday's Stage 4, Loh's OCBC teammates reeled in every breakaway attempt by a GC contender and kept the peloton intact of much of Stage 5.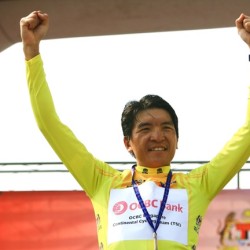 However, a trio of riders, two of whom were within 2 minutes of Loh in the GC, eventually managed to separate themselves from the pack. About 20 kilometres from the finish, they extended their lead to 2:12 over the peloton, meaning the two GC contenders – Galedo Mark Lexer from Team 7 Eleven presented by Roadbike Philippines and Ronald Oranza from LBC-MVPSF Cycling Pilipinas – were technically ahead of Loh in the chase for the yellow jersey at this point.
However, the peloton began to close in on the breakaway, and with 10 kilometres to go, Loh had regained the virtual lead from Lexer and Oranza. With about 3 kilometres left, the pack was within 200 metres of the trio and it finished 11 seconds behind stage winner Samir Jabra Yilov of Baku Synergy Cycling Project, who clocked 4:01:23. Loh clinched the yellow jersey with perhaps the most satisfying 32nd-place finish of his career.
For their tremendous teamwork in defending Loh's victory, the OCBC Singapore Pro Cycling Team was also rewarded with second place in the Team General Classification, finishing just 3 seconds behind Baku Synergy Cycling Project.
"The team rode an amazing race this entire week," said Justin Cheong, team manager of the OCBC Singapore Pro Cycling Team. "We were under threat the whole time, and many teams tried to crack us every single day, but they didn't. We're so proud of this accomplishment. This proves that a Singaporean team can do big things on the Asian cycling circuit."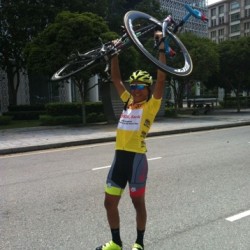 Loh's yellow jersey is just the latest on a long list of highlights for the OCBC Singapore Pro Cycling Team this year. He scored the first of the team's eight podium finishes so far this year by winning Stage 2 of The Princess Maha Chakri Sirindhorn's Cup Tour of Thailand in April. The latest podium result came in Stage 2 of Jelajah Malaysia on Thursday, when Loh finished third and seized a lead in the GC that he never relinquished.
Loh's three-jersey haul also adds to the King of the Mountains (KOM) jersey OCBC teammate Thomas Rabou captured at Le Tour de Filipinas in April and the white jersey Eric Sheppard picked up at the Tour de Kumano last month for being crowned the Best Young Rider.
Before this season started, the OCBC Singapore Pro Cycling Team did not even have a stage podium finish on its resume, let alone the two stage wins and yellow jersey it can now boast of.
Loh wasn't the only OCBC cyclist who excelled at Jelajah Malaysia. New Zealander Jason Christie finished 11th in the GC, while Low Ji Wen delivered the highest Singaporean finish at 21st. Following them were Goh Choon Huat at 58th, Ahmad Haidar bin Anuawar in 60th and Ho Jun Rong in 91st.
The OCBC Singapore Pro Cycling Team now receives a well-deserved break of almost two months from racing before resuming action on the UCI Asia Tour in August.
About OCBC Singapore Pro Cycling Team
The OCBC Singapore Pro Cycling Team was first founded in 2009 as an amateur club team with the mission to develop and promote Singapore cycling. The team has today turned into a full-fledged professional cycling team and established itself as the premier road developmental team for cycling talent in Singapore. Being the first and only professional cycling outfit out of Singapore, the team has been licensed by the Union Cycliste Internationale ("UCI") as a UCI Continental Cycling Team since 2012. Riders from the team have been crowned champions or stage winners in races such as the Tour of California KOM, Tour of Siam, Tour de Kumamo, Tour of Filipinas and Tour of Thailand.