Loh Sea Keong's brilliant showing at Jelajah Malaysia helps OCBC Singapore Pro Cycling Team hold first-ever yellow jersey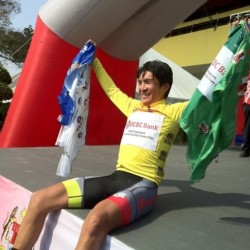 27 June 2013 – FOR the first time in its young history, the OCBC Singapore Pro Cycling Team holds the prestigious yellow jersey in a Union Cycliste Internationale (UCI) race.
Loh Sea Kong captured third place in Stage 2 of Jelajah Malaysia to virtually monopolise the overall leaderboard, holding four different jerseys at the end of Thursday's 197.6-kilometre stage. The 26-year-old Malaysian finished the day holding the yellow, green, blue and white jerseys, meaning he leads the standings in the General Classification (GC), Sprints Competition, Best Asian Rider Competition and Best Malaysian Rider Competition, respectively. Loh holds a 14-second lead over Sergey Kuzmin of Polygon Sweet Nice Team in the GC standings.
This also marks the OCBC Singapore Pro Cycling Team's eighth podium finish and Loh's fouth this season on the UCI Asia Tour.
Loh, who finished seventh in Wednesday's Stage 1, was in a breakaway alongside OCBC teammate Jason Christie and 12 other riders with about 10 kilometres to go. Loh pulled away at the end and crossed the line in a time of 4:45:02, 9 seconds behind stage winner Aaron Donnelly of Huon Salmon-Genesys Wealth Advisers.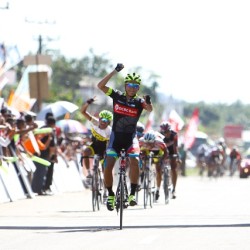 "This is a big, big day for our team and for Sea Keong, who is racing in front of his home fans," said Justin Cheong, team manager of the OCBC Singapore Pro Cycling Team. "It's obviously a huge honour to wear the yellow jersey, and we will do everything in our power to defend it."
The OCBC Singapore Pro Cycling Team also ranks first in the team General Classification, but Loh had help making that happen. Christie, a New Zealander, finished fourth in Stage 2 in an identical time as Loh, while Malaysian Ahmad Haidar bin Anuwar finished 19th. Haidar and Singaporeans Low Ji Wen (50th), Goh Choon Huat (59th) and Ho Jun Rong (67th) all finished within the peloton and were credited with a time of 4:46:01.
Following Loh in the General Classification standings are Christie in 10th place, Low in 21st, Goh in 54th, Haidar in 55th and Ho in 88th.
The team had plenty to cheer about right from the beginning of Thursday's stage. Goh joined an early four-man breakaway and, along the way, snatched first place in the first two intermediate sprints and second in the third and final one of the stage. He ranks ninth in the Sprints Competition, while Christie ranks fifth.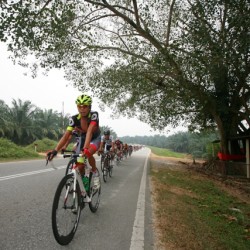 The OCBC Singapore Pro Cycling Team will attempt to help Loh retain the yellow jersey when Jelajah Malaysia resumes on Friday with the 94.7-kilometre Stage 3, which takes the riders from Batu Pahat to Pontian. The short and flat stage includes no King of the Mountains (KOM) climbs and will favour the sprint specialists in the field.
About OCBC Singapore Pro Cycling Team
The OCBC Singapore Pro Cycling Team was first founded in 2009 as an amateur club team with the mission to develop and promote Singapore cycling. The team has today turned into a full-fledged professional cycling team and established itself as the premier road developmental team for cycling talent in Singapore. Being the first and only professional cycling outfit out of Singapore, the team has been licensed by the Union Cycliste Internationale ("UCI") as a UCI Continental Cycling Team since 2012. Riders from the team have been crowned champions or stage winners in races such as the Tour of California KOM, Tour of Siam, Tour de Kumamo, Tour of Filipinas and Tour of Thailand.