OCBC Singapore Pro Cycling Team game for Jelajah Malaysia despite haze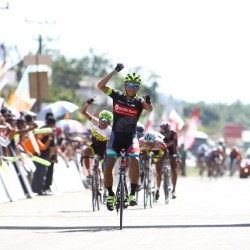 25 June 2013 – PROFESSIONAL cyclists are known to be a hardy bunch, so it should be no surprise that the OCBC Singapore Pro Cycling Team is not shying away from its next race, Jelajah Malaysia, as long as the air quality is safe for racing.
Malaysia's oldest stage race, celebrating its 50th anniversary this year, is a five-stage affair scheduled to run from Wednesday to Sunday. The race runs primarily along the western half of Peninsular Malaysia, beginning just outside Kuala Lumpur down to Johor Bahru before looping back up to the capital region.
The Malaysian National Cycling Federation, which is organising the race, held a press conference on Monday in Putrajaya announcing that the race will carry on even if the on-going haze problem forces organisers to change the route, as Union Cycliste Internationale (UCI) rules allow. In any case, the haze has recently spread to the central peninsula, while conditions have improved in the regions previously affected in the west.
"It will be a waste if we have to cancel the race because a lot of preparation on the logistics have been done," said Jelajah Malaysia Chief Operating Officer Dato' Naim Mohamad at Monday's press conference.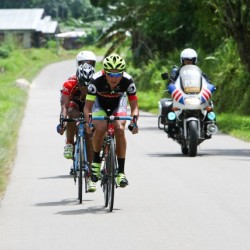 The OCBC Singapore Pro Cycling Team is game for going ahead with the race, as long as authorities declare the air quality safe enough for riding. Representing the team at Jelajah Malaysia are Singaporeans Goh Choon Huat, Ho Jun Rong and Low Ji Wen, Malaysians Loh Sea Keong and Ahmad Haidar bin Anuawar and new signing Jason Christie from New Zealand.
Over the weekend, Goh and Ho traveled to Perlis, in the northwestern tip of Malaysia, to escape the haze and continue their training. Even there, they had to limit their outdoor training to low-intensity rides, while making up for it with high-intensity sessions indoors on stationary trainers.
"It's not good, but when you have to get something done, you just have to do it," Goh said.
"It's important to take care of our health," Ho said. "No point training so hard and falling sick as a result. I just took it easy and did specific work on the indoor trainer to compensate for the lack of hours on the roads. We can still train hard and smart using scientific methods."
Low, who stayed in Singapore, had to shut down his outdoor rides completely. The OCBC riders typically spend three to four hours on the roads every day, but Low had to substitute that with work on his stationary trainer, complemented with training videos from team sponsor The Sufferfest.com. The Sufferfest offers downloadable videos that use footage from professional races, team manager instructions and music to spice up riding on a stationary trainer. Low's personal favourite is Hell Hath No Fury, a 75-minute video featuring footage from a UCI World Cup event.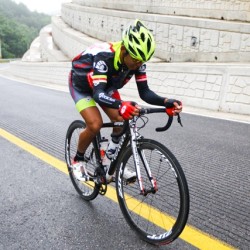 "Everybody is facing the same situation right now," Low said. "But we are lucky in that we are able to utilise videos from The Sufferfest, which have been very helpful. Videos like Hell Hath No Fury make it easier to train indoors, for sure."
The OCBC cyclists will have to be prepared to suffer this week, as three of Jelajah Malaysia's five stages either come close to or exceed 200 kilometres, beginning with Wednesday's 187.7-kilometre Stage 1 from Kompleks Sukan Negara Bukit Jalil to Rembau.
No Malaysian cyclist has won the yellow jersey since Suhardi Hassan was crowned the overall champion in 2004. The OCBC Singapore Pro Cycling Team's Malaysian riders could very well change that, especially considering Loh's recent sizzling form. The 26-year-old emerged victorious in Stage 4 of the Tour de Singkarak earlier this month for his second stage win of the year.
In fact, the OCBC Singapore Pro Cycling Team as a whole is riding a hot streak. Sandwiching its triumphant showing at the Tour de Singkarak were outstanding performances at the Tour de Kumano, where Eric Sheppard won the white jersey awarded to the Best Young Rider, and at the Tour de Korea, where Sheppard captured podium finishes in Stages 7 and 8.
The OCBC Singapore Pro Cycling Team now has seven podium finishes this season.
About OCBC Singapore Pro Cycling Team
The OCBC Singapore Pro Cycling Team was first founded in 2009 as an amateur club team with the mission to develop and promote Singapore cycling. The team has today turned into a full-fledged professional cycling team and established itself as the premier road developmental team for cycling talent in Singapore. Being the first and only professional cycling outfit out of Singapore, the team has been licensed by the Union Cycliste Internationale ("UCI") as a UCI Continental Cycling Team since 2012. Riders from the team have been crowned champions or stage winners in races such as the Tour of California KOM, Tour of Siam, Tour de Kumamo, Tour of Filipinas and Tour of Thailand.