Thomas Rabou narrowly misses out on podium finish, soars up General Classification at Tour de Korea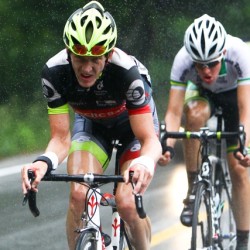 14 June 2013 – THE OCBC Singapore Pro Cycling Team's ace climber Thomas Rabou proved once again that he has the burst in his legs to be a sprinter as well, as he narrowly missed out on a podium finish after a bunch sprint to end Friday's Stage 6 of the Tour de Korea.
Rabou was part of a 10-man breakaway at the end of the 184.7-kilometre stage from Pyeongchang to Yangyang. The 29-year-old Dutchman crossed the line in sixth place and was credited with the same time of 4:12:07 as stage winner Zachary Bell of Champion System Pro Cycling Team.
Rabou's brilliant showing sent him soaring up the General Classification (GC) standings from 11th to fifth. He lurks just 1:30 behind new GC leader Michael Cuming from Rapha Condor JLT, who finished 10th in Stage 6 to overtake Team Hong Kong China's Cheung Kinglok for the yellow jersey lead.
Stage 6 featured two early King of the Mountains (KOM) climbs. Rabou, who won the KOM crown at Le Tour de Filipinas in April, demonstrated his pedigree once again by taking third place in the second climb. However, the final 60-plus kilometres of the stage featured largely downhill terrain, which gave sprint specialists a distinct advantage over climbers like Rabou.
But Rabou demonstrated his versatility by staying with the lead pack, which eventually opened a 3:22 gap over the peloton. Rabou was pipped on the final stretch to miss out on what would have been his third podium finish this year. He captured third place in Stage 4 of Le Tour de Filipinas and in the Melaka Governor's Cup in the span of five days in April.
"We've always believed in Thomas, and days like today are a good reason why," said Justin Cheong, team manager of the OCBC Singapore Pro Cycling Team. "He is still very much in the hunt for the yellow jersey, and we look forward to two more days of ferocious racing from him to try to make up ground in the General Classification standings."
Rabou's OCBC teammate Eric Sheppard turned in a solid performance as well, crossing the line with the peloton in 20th place. Luke Parker ended up in 39th, Low Ji Wen in 74th and Jason Christie in 75th.
Rabou now takes over from Sheppard as the highest-ranked OCBC rider in the GC standings. Sheppard slipped to 12th and third in the Best Young Rider rankings, while Christie is in 53rd, Parker in 76th and Low in 86th. The OCBC Singapore Pro Cycling Team ranks ninth out of the 20 squads in the Team General Classification.
Saturday's Stage 7, the penultimate stage of the race, takes the field 145.1 kilometres from Yangyang to Hongcheon. The stage features an early Category 1 climb and a Category 2 climb midway through that might allow Rabou to slice a chunk out of Cuming's GC lead.
The Tour de Korea ends on Sunday with the 90.8-kilometre Stage 8 from Hongcheon to Hanam.
About OCBC Singapore Pro Cycling Team
The OCBC Singapore Pro Cycling Team was first founded in 2009 as an amateur club team with the mission to develop and promote Singapore cycling. The team has today turned into a full-fledged professional cycling team and established itself as the premier road developmental team for cycling talent in Singapore. Being the first and only professional cycling outfit out of Singapore, the team has been licensed by the Union Cycliste Internationale ("UCI") as a UCI Continental Cycling Team since 2012. Riders from the team have been crowned champions or stage winners in races such as the Tour of California KOM, Tour of Siam, Tour de Kumamo, Tour of Filipinas and Tour of Thailand.